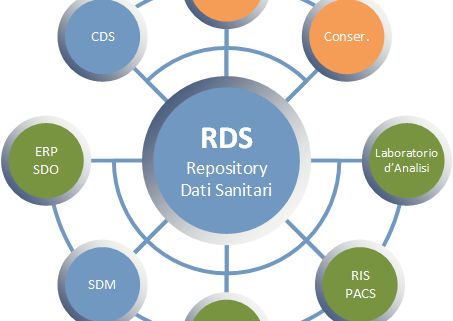 The project resulted in the implementation of an innovative solution logically transversal to the Hospital Information System (SIO) that would enhance the wealth of clinical data generated by the various vertical departments / applications that support them and at the same time guarantee interoperability between the various application areas.
In fact the Clinical Data Repository (CDR) represented a fundamental piece for the architecture of Knowledge Management , whose implementation took place through the interfacing of the individual vertical applications present at the hospital, through middleware Enterprise Service Bus (ESB) which ensured the consistency of the overall information flows of the SIO Hospital Information System .
The "container" that collects and collects all the data produced by the application architecture is therefore the CDR , which guarantees an added value in making the clinical data of any patient who has come into contact with Azienda dei Colli available in a controlled manner by any requesting facility.
With this in mind, the Clinical Data Repository has a multiple value:
clinical ‐ health: as an element enabling a single and unambiguous vision of the patient, which collects the data and reports produced during the various events that characterize a treatment path, the repository is characterized by the role of a support tool for the daily assistance delivery activity , which captures the information as it is generated, places it in the precise context to which it belongs and "writes" the individual history of the patient within the health / hospital company, building it incrementally, on the occasion of the patient's contacts with the company itself;
technological / architectural: it acts as a central system at company level, i.e. as a single interface, on the one hand, for the SIO applications, on the other hand towards the future ESF, assuming an essential role in the cooperation between systems and subsystems that share information , since it allows the centralization of administration and management functions;
organizational: as an element that decouples the departmental and departmental dimension from the corporate dimension, it guarantees full autonomy to the Company, in terms of management of the information assets, with the possibility of distinguishing and selecting among the relevant elements in the ordinary activity of providing assistance pertinent to the Health Record from those that are of "historical" interest and must be registered in the CDR;
source of information : as an original element for the establishment of the centralized clinical data repository at company level.
https://www.cremete.com/wp-content/uploads/2021/05/EcosistemaRDS-Color.png
445
453
admin-andy
https://www.cremete.com/wp-content/uploads/2021/05/gradientlogo-black-300x77.png
admin-andy
2021-05-14 20:22:19
2021-05-14 22:33:00
Clinical Data Repository